Nationwide, distribution demand is incredibly elevated at this time, and there are no signs that it will abate. Product consumption is strong and will likely continue to be that way as the US population starts to shift a bit to the nation's midsection.
The Infrastructure Investment and Jobs Act (IIJA) could start to create competitive divides between certain regions of the country. The IIJA allocates $550 billion in new spending on transportation, water and power, pollution cleanup, and many other aspects of digital, clean energy, and communication infrastructure. The bill has a total price of $1.2 trillion but $650 billion was authorized to continue previous annual spending appropriations.
Benefits and Timing
Some states and organizations may be more investment ready and are better set up to accept Federal spending than other regions. Benefits derived from the infrastructure bill and spending are supposed to be front-loaded in the spending appropriations in the first five years.
We should see increased momentum in regional business activity (manufacturing reshoring, ecommerce fulfillment, and warehousing construction, etc.) starting in the second half of 2022 and certainly in 2023. Most forecasts show the US hitting a peak in construction spending in 2024 and then smoothing out for the back-half of the decade.
Many different ports around the US had differing levels of congestion and delays this past year. Some of the money being allocated for infrastructure spending will ease port congestion and reduce operating costs for trucking, rail, and logistics firms using those locations.
Interstates
Nearly every highway system in the United States will see increasing congestion over the next 30 years. Ecommerce growth is fueling changes in how freight is moved and staged for fulfillment. In addition, some reshoring and nearshoring of manufacturing activity will also help fuel that trend.
This chart from the Federal Highway Administration shows a projection for the most congested highways by the year 2045.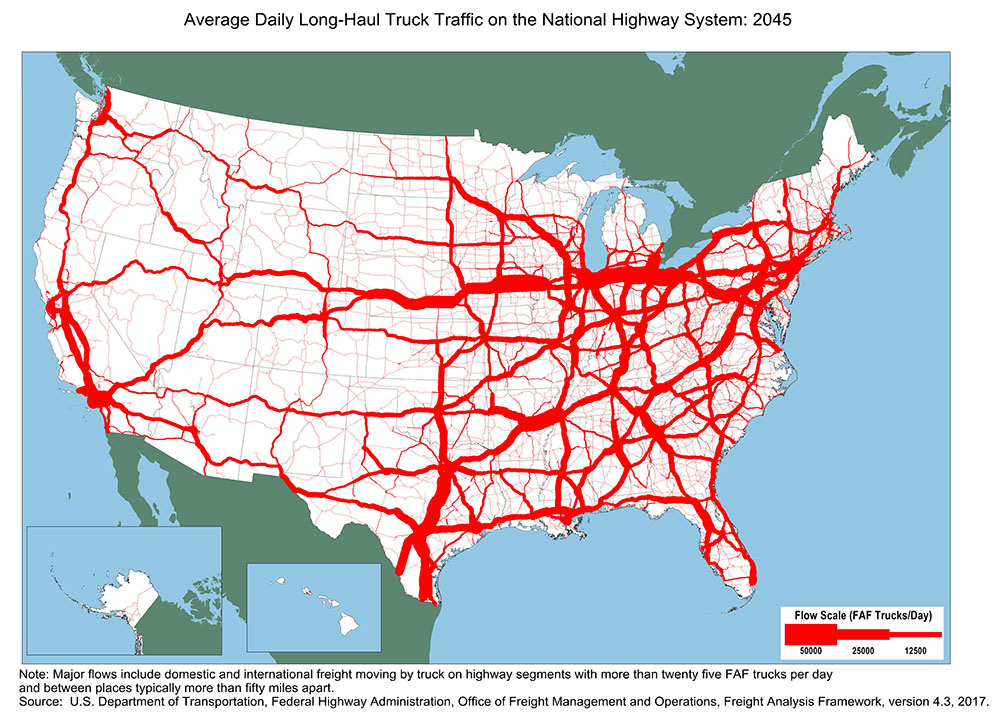 When looking at US distribution expectations through the year 2045, much of it will branch off of the Midwest and the I-35/I-40/I-80 corridors.
I-80 will be one of the busiest corridors in the country and any feeder highways connecting southern regions to I-80 will see increases in not only traffic, but also businesses and warehouses that line those feeder highway systems.
We can see some of the super congestion in the I-35 corridor as far north as Wichita and over to Emporia. Traffic splits there and some of it will head north to 1-70 and some of it will continue into the southwest corner of Johnson County near the intermodal center. I-70 on the East side of Kansas City will also see an increase in traffic (connecting east coast markets to I-35).
I-44 through Joplin will capture a lot of the increase in traffic as distribution systems try to link Texas/Mexico cross-border freight movement to get goods by truck into the northeast. I-40 east and west will capture a lot of truck traffic connecting Texas with the rest of the country.
Railways
Kansas City plays an important intermodal role for companies moving goods throughout the country. Rail freight movement is always popular, but it becomes even more so when environmental, social, and governance (ESG) factors are considered and when the price of fuel increases. As freight volumes moving in and out of the region increase, it increases affordability that attracts new shippers.
Rail will play a critical role in clearing the congestion at the southern border. The inland port concept for Gardner, KS will play an even bigger role in the future as cross-border freight volumes between the US and Mexico increase and Texas congestion makes over-the-road freight traffic more problematic.
The Kansas City Southern merger with Canadian Pacific Railways will also improve I-35 corridor movement, making it more seamless for shippers to inbound freight into Vancouver and move into points in the US. It shifts some distribution patterns and could favor Kansas City as a result.
Midwest Investment
Energy availability, standard of living, and lack of congestion throughout the Midwest will provide significant incentives for companies to look at investing in the region. If infrastructure funds are used effectively to speed up inland ports, highway and rail distribution, and even air cargo processing, the Midwest could benefit substantially from being ready to expand and improve infrastructure.
MarksNelson
is watching legislation closely so we can advise our clients, both economic development organizations and manufacturers and distributors on how they can best tap into and utilize the resources. Our location strategies team is also ready to assist with
site selection decisions
.