For the construction and engineering sector, the Infrastructure Investment and Jobs Act of 2021 (IIJA) is expected to boost national annual construction spending to 7% in each of the next 5 years. Civil and commercial construction is expected to grow by nearly 11% annually over this time, offset slightly by a flattening in the residential construction sector after it went through two years of aggressive growth rates.
The bill allocates $550 billion in new spending on transportation, water and power, pollution cleanup, and many other aspects of digital, clean energy, and communication infrastructure. Lawmakers expect the 10-year bill to be front-loaded with much of the new spending taking place in the first five years.
Since the IIJA is focused on providing critical funding for initiatives considered urgent for national security, States and the Federal Government are expected to work together quickly. Projects at the forefront include protecting and improving the national electric grid, repairing roads and bridges, increasing flow-through to relieve traffic congestion, and expanding communication infrastructure to rural communities, along with many other objectives.
Here is how the bill breaks down by sector spending: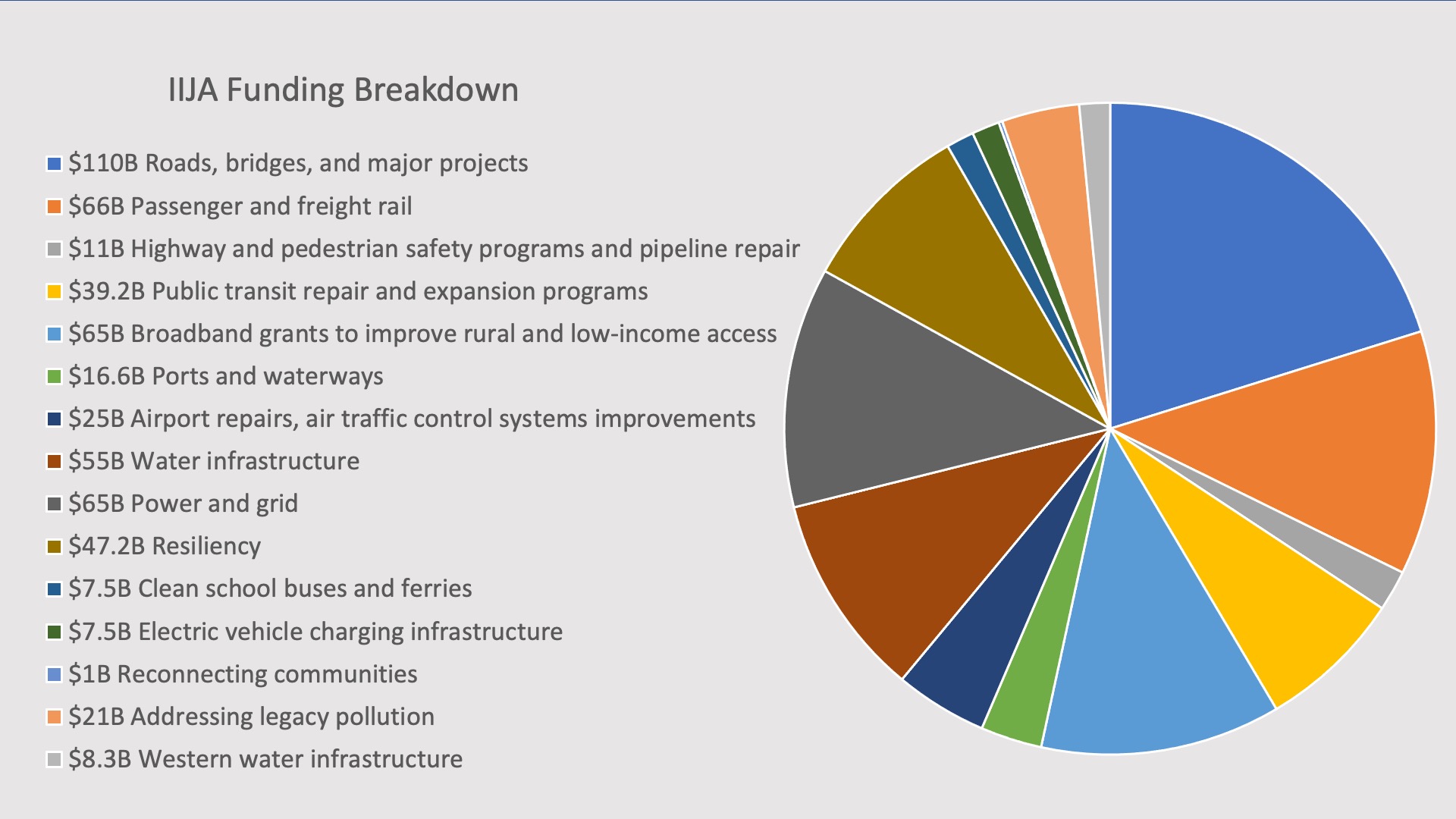 In many instances, the funds listed will be matched between States and the Federal Government.
The engineering sector will begin to see the benefits of this bill in the first half of 2022. Some firms have already mentioned that discussions are taking place with state authorities to try and understand what priority efforts might be addressed in the bill's first 5 years. Planning and design for proposals will take place quickly and some shovel-ready projects could see movement by the second half of 2022.
The construction sector will also experience a boost in spending starting sometime in the second half of 2022, after which it will gain momentum in 2023 and 2024 for new concept projects.
This volume of spending is an opportunity that the construction and engineering sector has not experienced in decades (or longer). There will be a myriad of considerations and regulatory concerns to reflect on when planning to participate in these projects. From accounting regulations to compliance and the understanding of qualifications to participate, there are many areas where MarksNelson can provide support and guidance as you navigate this wave of opportunity.